Brazil Confidential
Zoho Music 2010
Songs
_1. Além Do Azul 8:01
_2. Funky Jabour 3:30
_3. Teresinha 4:50
_4. Carioca Da Clara 5:07
_5. Confissão 6:12
_6. Singela 3:45
_7. Vitamin B 2:10
_8. Paraty 6:41
_9. Parafuso A Menos 2:41
10. Janacek Suite No. 4 2:29
11. Rapadura 7:44
12. Parazen 6:32
Musicians
Jon Gold piano and keyboards
Harvie S bass (1-4, 7-9, 11)
Mauricio Zottarelli drums
(1-4, 7-9, 11)
Jorge Continentino woodwinds
(1,3,4,11)
Scott "Scottinho" Anderson
guitars (1,3,4,5,7,8,12)
Ze Mauricio percussion
(1-5, 7-9, 11)
Anat Cohen woodwinds (2,7,9)
Zach Brock violin (1,9)
Andrew Sterman flute (2,7,9)
Bryan Murray woodwinds (2,7,8)
Luiz Ribeiro guitar (5)
Toninho Ferragutti accordion (11)
Tatiana Parra vocals (5)
Leah Siegel vocals (8, 12, 5 backup)
Katie Scheele English horn (6,10)
Lauren Riley Rigby cello (12)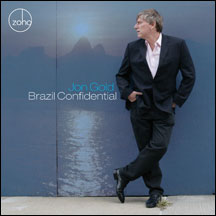 Produced by Scott Anderson.
Executive producer: Joachim Becker
Recorded at Kaleidoscope Studios, Union City, NJ, Madureira Sound, Brooklyn, NY, and Sao Paulo, Brazil, November 2008-June 2009.
Mixed by Scott Anderson with technical assistance by Steve Rodby. Mastered at Universal Studios by Seth Foster.
All compositions by Jon Gold © 2010 Jon Stuart Gold Music (ASCAP). Lyrics on "Confissão"by Luiz Ribeiro.