Bossa Of Possibility
BluJazz 2012
Songs
_1. Ora Bolas 3:43
_2. Bossa of Possibility 6:15
_3. Bugalu 2-6-3 4:2 _0
_4. Theme for Impermanence 5:20
_5. Buster 3:56
_6. Caroline Dance 4:36
_7. AOC 5:36
_8. P'bubu 3:14
_9. Mineira 5:07
10. Mainstay 5:49
11. Samba Ballet 5:22
12. Stanley 4:14
Musicians
Jon Gold keyboards
Harvie S bass
Dave Liebman saxophone (5,12)
Howard Levy harmonica (2,3,7,11)
Tom "Bones" Malone all horns (3)
Jon Irabagon saxophone (1,2,8,9)
Zach Brock violin (1,8,10)
Jorge Continentino flutes (1,3,6,8,9)
Scott Anderson guitars
Mauricio Zottarelli drums
Adriano Santos percussion (1,2,3,10)
Zé Mauricio percussion (6,8,9,11)
Bryan Murray sax (1,3,6,8,9)
Lauren Riley Rigby cellos (5)
Jackie Coleman horns (2)
Jeff Hanley electric bass (3,6)
Rob Curto accordion (1,8)
Briyana Martin vocals (9)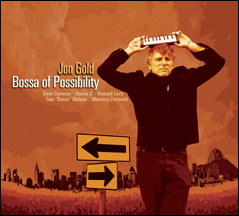 Read the latest review of this CD
"I felt much the same passion as when I first heard Brazilian music.
Bravo!!"
"Brazil Confidential is a landmark album"
Produced, mixed and mastered by Scott Anderson
Recorded 2011 at Peter Karl Studios, Brooklyn, N.Y., Night Owl Studios, N.Y., O Lab Studios Brooklyn, N.Y. and Red Rock Studios, Saylorsburg, PA.