Aqua Regia
Pacific Street 2000
Songs
_1. Samba das Meninas 4:37
_2. Nosso Abacaxi 5:02
_3. Canção de Ninar 3:11
_4. Ypioca 6:33
_5. Se Você me "Soubesse" 5:33
_6. Ypioca (reprise) 0:47
_7. Sem Arrependimento 4:13
_8. Asa Branca 1:46
_9. Todas as Moças 4:52
10. Jardim Botanico 5:18
11. Felicidade 1:32
Musicians
Airto Moreira drums and percussion (1,4)
Celso Alberti drums and percussion (4,9)
Harvie Swartz acoustic bass (2,4,7,9)
Jeff Buenz guitar and bass (2,4,7 & 9)
Carlos Malta woodwinds (2,8 & 10)
Paul Van Wageningen drums (2,4)
Claudio Puntin clarinet & bass clarinet
Claudia Villela vocals
Jon Gold piano, keyboards and arrangements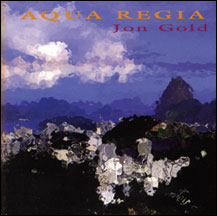 Produced by Jon Gold
Executive producer: Eric Doney
Recorded in San Francisco, Ca, Rio de Janeiro, RJ and Saylorsburg, PA..
Mastering by Kent Heckman, Red Rock Studio, Saylorsburg, PA.
All compositions by Jon Gold ©2000 Jon Music (ASCAP) except the excerpts from "Felicidade" © A.C. Jobim and Vincius de Moraes (Editora Musical Arapa Ltda). "Asa Branca" © Luiz Gonzaga and Hamberto (Editora Rio Musical Ltda). Lyrics on 1, 4, 5 & 9 by Claudia Villela.