Originally from Palo Alto, California, pianist and composer Jon Gold has had a life long interest in Brazilian and Latin jazz.

He's performed throughout northern California, including the Monterey Jazz Festival, and throughout Rio de Janeiro. Along the way he's recorded with such artists as Airto Moreira and bassist Harvie S.

Jon also has a Ph.D. in Physical Chemistry from the University of California at Santa Cruz and gained noteriety as the first person to ever melt a diamond.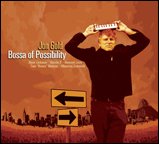 NEW CD
12 original songs with Brazilian, jazz and French elements featuring Dave Liebman-sax, Howard Levy-harmonica, Harvie S-bass, Tom "Bones" Malone horns, Jon Irabagon-sax and others. Read more...